Starting a new job is very exciting and can at times even be a bit nerve wracking. We've all been there; hoping that the new job and company will turn out to be as great as promised during the interviews.
At Raketech, we strive to ensure that onboarding doesn't start on your first day of employment but starts the moment we meet for the very first time.
Setting the right expectations during the recruitment process is key for any successful onboarding experience. Our HR team provide candidates with honest and transparent information, by steering clear of any sales tactics and showcasing our culture by sharing authentic and genuine insights.
One big challenge that companies face, whether recruiting both office-based and remote employees, is that information and communication does not always flow equally. For this reason, we have introduced a one for all approach when onboarding new employees.
Whether one starts at our office or remotely we will ensure they receive the same level of information, guidance, and support throughout the onboarding journey.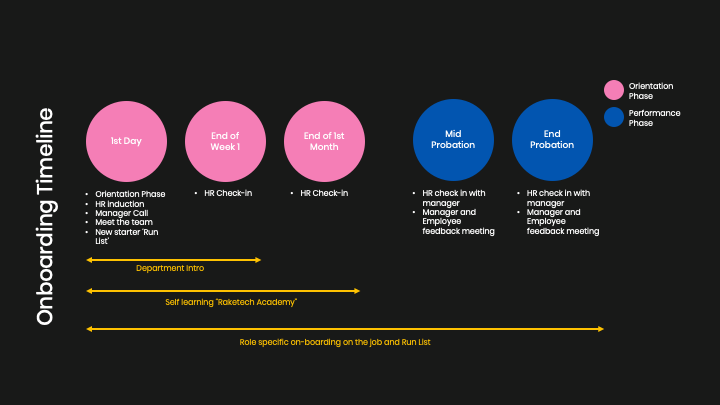 Our onboarding process is divided into two phases: Orientation Phase and Performance Phase.
The Orientation Phase aims to help new starters find their way around, whilst focuses on guiding them through the different components of our organisation.  This phase is highly structured and standardised. During the first day, all new starters will have a welcome call with their line manager, a virtual meet and greet with their teammates and a call with HR to close the day. The call with HR will be to brief them not only on HR processes and tools, but also on the Raketech strategy and culture, as well as on the onboarding process itself.
As we onboard different amounts of new starters, the first day meetings can either be one-to-one, or as group sessions.
Furthermore, everyone gets an Onboarding Buddy assigned to them to assist them in their first few weeks at Raketech. On top of this, new starters also get a role specific Run List that includes some To Do's for the first month, which would include meeting certain team members, trying out tools, participating in forums, etc.
Additional calls to introduce different departments are pre-set during the first week.
Besides getting to know their roles, our strategy, culture and departments, there is a lot of other information to be covered. We believe in ownership, therefore we ask new starters to use our digital self-learning platform, the Raketech Academy, to complete a number of relevant online courses during the first month.
To ensure nobody gets lost and nothing is missed, HR will check-in after the first week and again after the first month.
Once new employees have settled in, we can then start focusing more on performance. During the Performance Phase, employees are provided with feedback and support to ensure their performance meets their role's expectations.
Even though our Managers are expected to provide employees with continuous feedback we have set a minimum of two formal Performance Feedback Meetings, one around mid-probation and another one four weeks before probation ends.
As we work with both, office-based and remote employees, all meetings can either be in person or online, or mixed.
At Raketech we believe in continuous improvement and therefore our approach to onboarding is not cast in stone but reviewed and improved continuously. Keep in mind what worked great yesterday, may not work well today, or in future!
Our Best Practices Checklist:
1. Manage expectations during the recruitment process
2. Have a structured approach to onboarding
3. Provide a clear Onboarding Plan (we use role specific Run Lists)
4. Use a mix of short and focused meetings, self-manged learning, and community support (e.g. Buddies)
5. Check-in regularly and provide continuous feedback
6. Continuously improve your onboarding approach