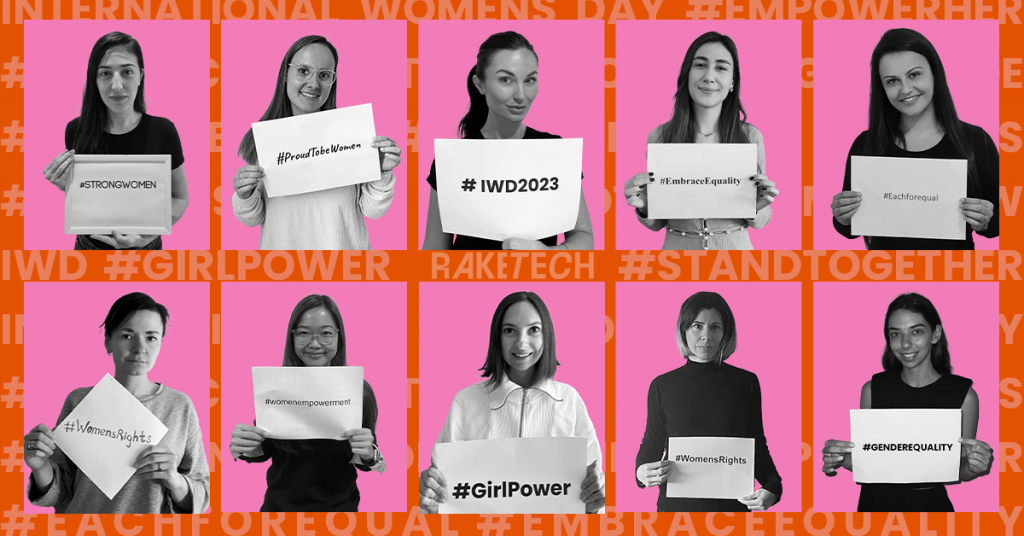 At Raketech, we believe in the fundamental human right of gender equality. As we celebrate International Women's Day 2023, we are committed to creating an environment where everyone has an equal opportunity to succeed.
According to a recent report by Eurostat, women account for only 17% of employees in the technology sector. Additionally, statistics show that only 5% of leadership positions in the tech industry are held by women. Another study by the National Center for Women & Information Technology found that women held only 25% of jobs in the tech sector in 2019, despite representing 47% of the overall workforce. These numbers clearly indicate that there is still a lot of work to be done to achieve gender diversity in the technology industry.
As a tech company, we are proud to be part of the movement to promote gender diversity and inclusion in the industry. That closely correlates with UN's theme for International Women's Day 2023 – DigitALL: Innovation and technology for gender equality. We recognize the important contributions that women and girls are making to technology and are committed to promoting gender diversity and supporting women's advancement.
The Raketech Way
At Raketech, we strongly believe that diversity and inclusion are key drivers of innovation and business success. While the technology industry has traditionally been male-dominated, we know that promoting gender diversity and supporting women's career advancement is essential for building a more equitable and sustainable future. We are proud to have a 36% female-to-male ratio and 19% of leadership positions held by women.

To support gender diversity and inclusion, we have a range of initiatives and programs in place. We offer diversity and inclusion training for all employees and promote flexible work arrangements to support work-life balance. Our company is committed to recruiting and retaining more women in leadership positions and promoting gender equality in the tech industry.
If you're interested in joining our efforts to promote gender diversity, we encourage you to have a look at our open positions at https://www.womentech.net/ and https://raketech.com/careers/. We welcome applicants from all backgrounds and experiences while staying committed to providing a welcoming and inclusive work environment for all.