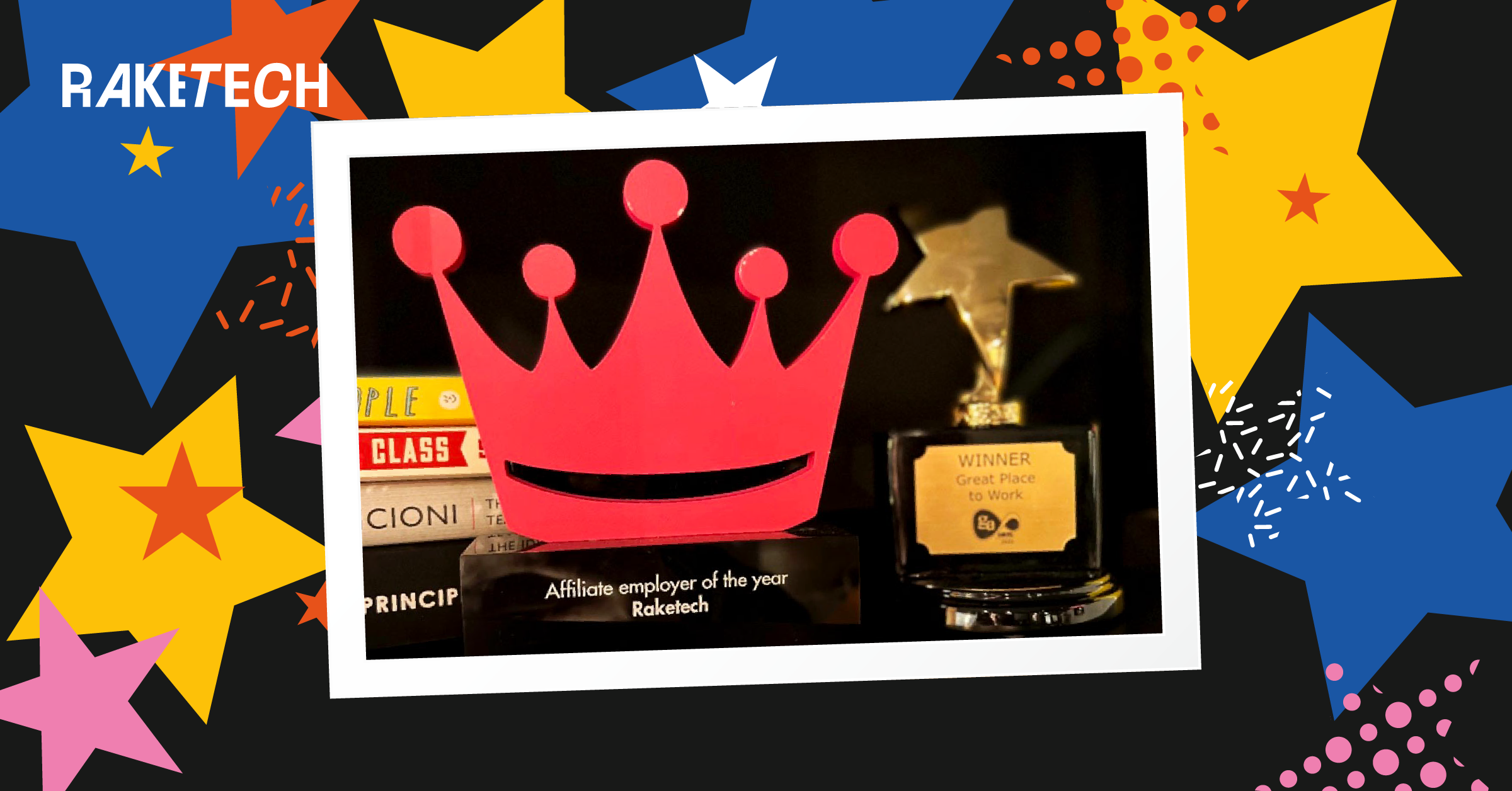 What makes Raketech a great place to work?
The popularity of remote work is at an all-time high. While having the ability to work from outside of a corporate office has been feasible for a while, working remotely is only now becoming widespread. The Covid-19 pandemic has forced many of us to work from home for an extended period, although with the expectation that we will eventually return to the office.
Like many other tech companies both locally and abroad, Raketech dug into remote working due to the pandemic, but as businesses gradually return to the office, we have taken the bold and smart move to adopt a remote-first approach – a strategic move that is proving to be hugely popular and successful with our employees.
At Raketech we know happy people are the key to an efficient and productive team. That's why we promote a healthy work-life balance by offering space and flexibility but don't just take our word for it – Just have a sneak at two of our latest awards we have added to the trophy cabinet.
And the winner is…
Raketech scooped two prestigious awards for the second year running. We were named ' Best Affiliate Employer of the Year'  at the IGB awards ceremony, while we also took home the ' Best Place to Work' award at the International Gaming Awards. The highly popular annual awards commend the most successful businesses in the global gambling industry.
This just shows how far we've become as a top organization in the industry and we are very proud to have been the voter's choice for these two prestigious awards. It all comes down to the consistency, hard work and effort from our extremely talented teams we have at Raketech.
Staying ahead of the game: Talent, recruitment, on boarding and more.
Making sure we recruit the right people is essential for the long-term growth of our company. Over the past year, we have recruited a wide array of strong talent from across the globe which can now be seen through the rapid expansion of the organization.
Starting a new job can be very exciting and overwhelming, and at Raketech we strive to make sure we can attract talent from all parts of the world by making sure the onboarding process starts not on the first official day of the new job, but on the first time the candidate sits for the initial interview.
People are our Biggest Success
It is our amazing people that have made Raketech what it is today and we believe in rewarding the strong work ethic and dedication that everyone brings to the table. On top of a competitive base salary, we offer a number of extra benefits that really go hand in hand with the Raketech culture.
Remote Working
Our remote working jobs offer all Raketekkers the chance to work 100% remotely, where it is the most comfortable for them. We are fully behind you on this, and rest assured you will still feel like one of the family and a true Raketekker from the very beginning.
We also totally understand that everyone has different routines and sometimes life gets in the way. We trust our Raketekkers to get the job done, so if something unexpected comes up or you need to work to a certain schedule; we're flexible and we got you covered!
Wellbeing
The well-being of our Raketekkers is of great importance. With Raketekkers working remotely we want to make sure your home office is as comfortable as it can be. That is why we provide every employee with a desk and chair allowance. On top of this, every member of the company also receives a bonus of 350 euros per year to go towards home office equipment or wellbeing.
We also realize the need for social interaction when working remotely; which is why we provide plenty of opportunities to socialize virtually through regular Friday get-togethers', coffee break meet-ups, personal training sessions, and much much more.
Become a Raketekker!
Team Raketech has a unique company culture and has an exceptional retention rate. As much as an experienced skill set is essential to us, we also keep in consideration the people and personality side of our recruitment process.
If you would like to check out our latest openings and wish to apply, make sure to visit our careers page to get a step closer to becoming part of TeamRaketech!