SEO content and keyword planning for the sports betting vertical is slightly different to casino, as there are fewer high-volume evergreen keywords out there. Sports betting is a more dynamic, seasonal market, where search volume for certain competitive keywords is compressed into a short time interval.
This is particularly true of the US sports betting market, where seasons tend to be shorter than in Europe, and where the identity of the teams that qualify for the Super Bowl is known just 14 days before the game takes place (for comparison, in European soccer, the identity of the UEFA Champions League finalists are known 24 days beforehand).
Relying on popular tools like SEMRush and Ahrefs for keyword planning has limited value for such dynamic content, as their volume data has significant delays. New, popular search queries won't show up on these tools for quite some time, and by then, they would have lost all their SEO value.
What's more, these tools also struggle to show seasonal trends in keyword volumes. For example, when exactly does search volume for "NFL betting lines" (keyword volume: 28K according to Ahrefs) spike upwards? And when does the volume for that keyword collapse? Popular paid tools will give you little guidance on that.
Commercial tools also have limitations when it comes to identifying regional variations in keyword volume. Are your chosen high-volume sports betting keyword as popular in New Jersey as it is in Texas? This information could have a massive impact on your conversion rate, due to gambling licensing issues.
Google Trends data, on the other hand, is close to real-time, allowing SEO teams to produce new keyword-targeted content at short notice.
Seasonal trends are also easily identifiable, as Google Trends data stretches back all the way to 2004.
Google Trends data even allows you to separate search volume by state, allowing sports betting operators and affiliates to check how targeting certain keywords fits into their own business model.
Below, we will demonstrate concrete examples of how Google Trends data can be used to help refine your keyword research for the highly competitive NFL/Super Bowl market.
We will start our research by using Ahrefs volume data and then, we'll be improving on it with data from Google Trends.
Competition: NFL & Super Bowl
Keyword: NFL odds (123K searches/month)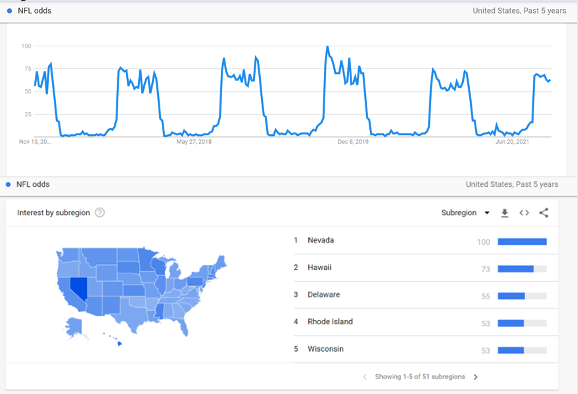 https://trends.google.com/trends/explore?date=today%205-y&geo=US&q=NFL%20odds
The 'NFL odds' rises to its highest level in late summer, coinciding with the start of the NFL season. Then it plateaus, with one more spike during the playoffs. What happens next, is very interesting.
Keyword: Super Bowl Odds (37K searches/month)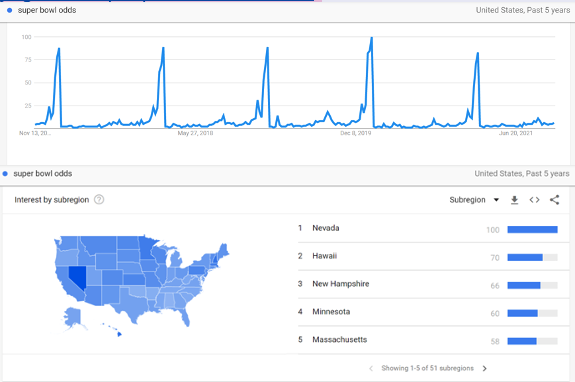 https://trends.google.com/trends/explore?date=today%205-y&geo=US&q=super%20bowl%20odds
The 'Super Bowl Odds' keyword is active for an even smaller time interval than 'NFL odds', with a spike during the 2 weeks between the AFC/NFC playoff games and the Super Bowl itself.
Comparing the two keywords (NFL odds & Super Bowl odds) better displays the time sensitive nature of the Super Bowl and confirms that Ahrefs keyword volume is reasonably accurate (at least in terms of the ratio between the two volumes 37k v 123k).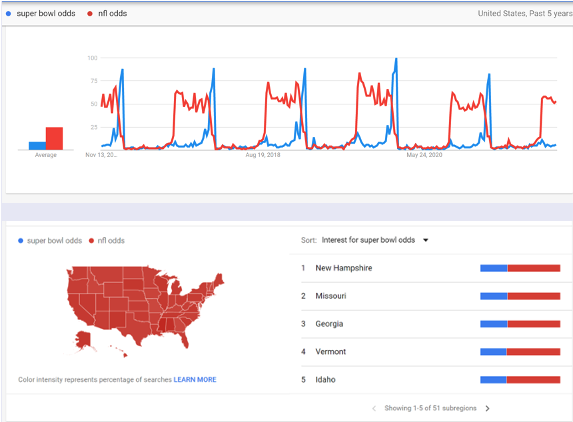 https://trends.google.com/trends/explore?date=today%205-y&geo=US&q=super%20bowl%20odds,nfl%20odds
The keyword "NFL odds" is the most important keyword every week until the NFC/AFC Championship Games are concluded, and then "Super Bowl odds" takes over on the fortnight before the big game.
One interesting question would be whether the same pages score for both keywords: does Google treat the NFL and the Super Bowl as synonyms? The answer is no, suggesting that websites should target the keywords using separate landing pages.
Now let's look at individual teams with varied performances in the NFL over the past 5 years. How much does their success (or lack thereof) affect searches for their brand? And how localized is their search volume? We focus on 5 teams, from a variety of states where sports betting is legal and where it is not.
Los Angeles Rams
Keyword: Rams odds (250 searches/month)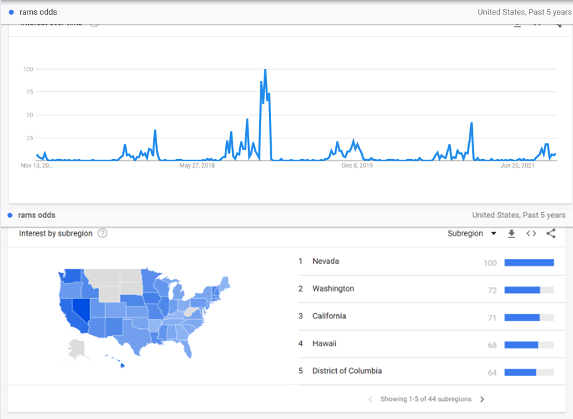 https://trends.google.com/trends/explore?date=today%205-y&geo=US&q=rams%20odds
The Los Angeles Rams reached the Super Bowl in the 2019 season, explaining the spike in search volume around that time. Unlike the other franchises highlighted, the Rams search interest in their home state (California) is not the strongest in the country. Nevada and Washington push the Sunshine State into third place, at least for 'Rams odds'…
New England Patriots
Keyword: Patriots odds (400 searches/month)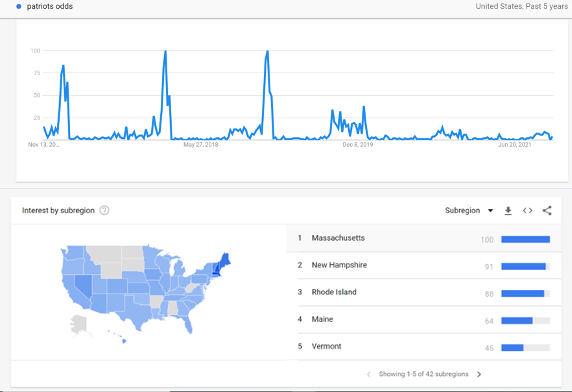 https://trends.google.com/trends/explore?date=today%205-y&geo=US&q=patriots%20odds
Once again, we see that search interest for the New England Patriots is highest in the states of New England (as well as the 5 states visible above, Connecticut was in 6th place). Over the 5 years we looked at, there were massive spikes in the 3 seasons that the Patriots made it to the Super Bowl (2017, 2018, 2019).
Dallas Cowboys
Keyword: Cowboys odds (300 searches/month)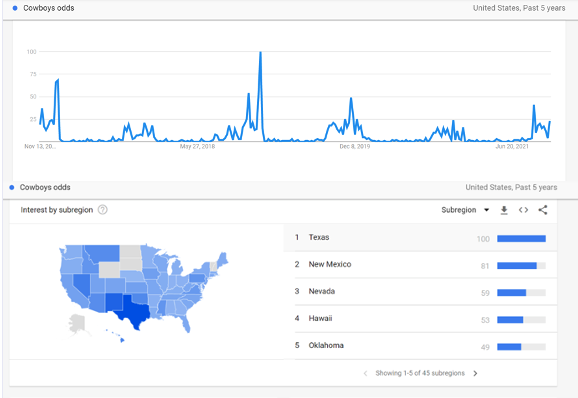 https://trends.google.com/trends/explore?date=today%205-y&geo=US&q=Cowboys%20odds
The Dallas Cowboys were in their heyday in the 90's, under owner Jerry Jones, however, the team is way past its prime, with the franchise not reaching the Super Bowl in 25 years. They did reach their divisional playoffs in the 2018 season though and saw a spike in interest due to this. Search volume is concentrated in Texas and New Mexico – neither of which allows legal sports betting.
Kansas 

City

 Chiefs
Keyword: Chiefs odds (800 searches/month)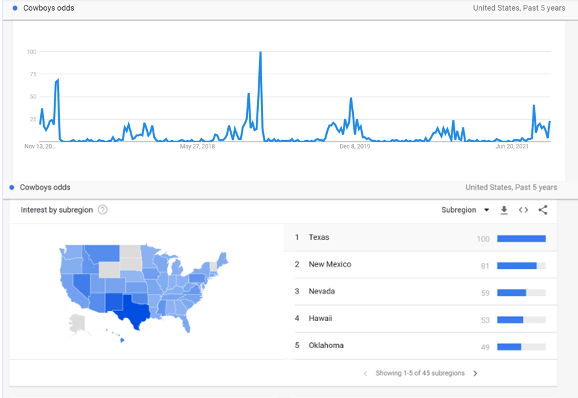 https://trends.google.com/trends/explore?date=today%205-y&geo=US&q=chiefs%20odds
The Kansas City Chiefs have been among the most successful franchises in recent seasons, winning the Super Bowl in 2020 and finishing runner-up in 2021. That explains the spikes in "Chiefs odds" in those years. The search interest for this keyword is concentrated on the two states that the team is most associated with – Missouri and Kansas… Neither of which offer legal online sports betting as of 2021.
The Pittsburgh Steelers
Keyword: Steelers odds (700 searches/month)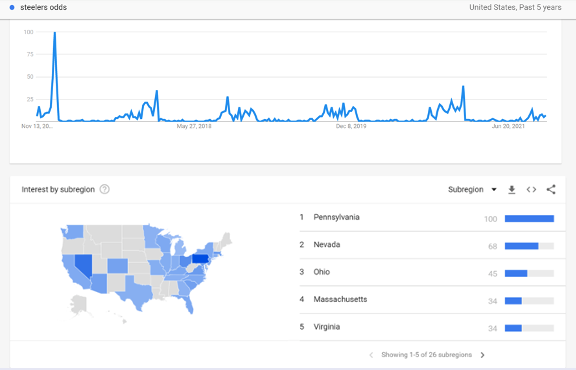 https://trends.google.com/trends/explore?date=today%205-y&geo=US&q=steelers%20odds
The Pittsburgh Steelers franchise is based in Pennsylvania, and – once again – that state is where relative search volume is the highest. Pennsylvania also allows legal online sports betting. The Steelers reached the AFC Championship in 2017, which explains the spike in search volume that year.
Key Takeaways
Keywords related to the NFL and the Super Bowl experience a high level of seasonality, and experience extreme divergence from each other.
NFL related keywords see the biggest spike at the start of the NFL season, then plateau, before seeing a sharp drop when the identity of the Super Bowl teams becomes clear.
Super Bowl-related keywords are of a lower overall volume than NFL-related keywords, although the timeframe when these Super Bowl keywords are most active is compressed into a much shorter window.
SERP analysis shows that Google does not treat the 'Super Bowl' and the 'NFL' as pure synonyms of each other since the search results for each keyword are different from each other. These keywords can be targeted with different landing pages.
Search queries related to individual team odds are closely correlated to their franchise catchment areas (cities, states, or regions). Operators and affiliates which have chosen to follow the licensed route, or the grey market, should factor this into their SEO resource planning.
Teams that are performing well see large spikes in search interest for their betting odds. Fast reacting content/link-building teams can take advantage of these spikes.
Written by: Simon Flynn